Oklahoma City Personal Injury Attorneys
Injured? We've Been Protecting Victims for Over 21 Years.
Enduring pain from a severe injury can be stressful for anyone, especially when caused by someone else's negligence. When you need a skilled Oklahoma City personal injury lawyer to vigorously advocate on your behalf, turn to Clemens Blair. Our seasoned legal team has over four decades of experience, providing sound representation to local victims and their families when they need it most. Our diligent attorneys have put their legal skills to work in a variety of personal injury matters. Through hard work and dedication, we have obtained millions of dollars in verdicts and settlements for our clients.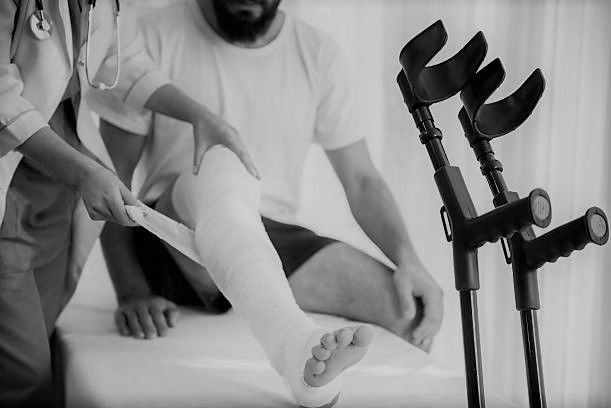 Should I Seek Compensation for my injuries?
There are several reasons you should consider pursuing compensation for your injuries, rather than just gritting your teeth and trying to continue life as normal:
If your injury resulted in a change in your quality of life - Financial compensation can offset some of the long-term repercussions of your injury, including missing work, loss of ability to care for or support your family in the same way.
If your injury required medical treatment - If your accident was caused by someone else's negligence, it isn't fair for you to foot the bill for medical expenses or treatment.
If your accident was caused by a clear violation of Oklahoma law - The state of Oklahoma puts laws in place to protect individuals like yourself; by pursuing legal action against a negligent party, you not only obtain justice for yourself, but work towards upholding the rights of other injured parties in Oklahoma City.
If your injury was a result of negligence or malpractice - In cases where your injury was caused by malpractice or negligence that may potentially affect others in the future, you are doing others a service by drawing attention to their lack of care, you may even save someone else's life!
There are various other reasons you may want to pursue legal action for your injuries that are not listed above. Contact Clemens Blair today to find out what damages you may be eligible to receive compensation for!
Get Started on Your Claim Today
According to Title 12, Ch. 3, Sec. 95 of the Oklahoma Code the statute of limitations for personal injury cases in Oklahoma is two years. This means you have two years to file your personal injury claim or you will lose your ability to do so, effectively losing your right to recover compensation. This is why is very important to file your claim as soon as possible. Wondering how the statute of limitations may affect your case? Read our FAQ page to learn more and contact our team today to get started.
Contact us today to discuss your case. We are here to fight for your rights.
Direct Access to Trusted Advocacy & Insightful Counsel
Our legal team offers top-of-the-line services for clients in the cities of Choctaw, Edmond, Norman, Midwest City, El Reno, Moore, Shawnee, Oklahoma City and Yukon. We strive to help injury victims throughout the state obtain the justice they deserve, after being wrongfully injured in an accident. Our location just outside downtown Oklahoma City provides a convenient location for all of our clients to visit. We are fully committed to providing them with the best one-on-one support possible.
Providing the Individualized Representation You Deserve
Rest assured that we provide nothing short of dependable and highly reputable legal counsel! Our attorneys don't pass their cases off to their assistants. At Clemens Blair, your personal injury attorney in Oklahoma City works directly with you to ensure that you're in experienced and knowledgeable hands.
Latest Personal Injury Statistics
Work Injury Stats:
In 2017 the US Department of Labor reported that in 2016 there were over 5,000 fatal occupational injuries
From 2003 to 2016 the most common sectors in which occupational injuries occur are construction, transportation and warehousing, and manufacturing
Car Accident Injury Stats:
According to the NHTSA, motor vehicle accidents were the leading cause of death for children aged 10, 11, and 17 in the year 2017
The NHTSA also reported that in 2017 there were over 2 million injuries resulting from motor vehicle accidents
General Injury Stats:
In 2018 there were 27,000 reconstructive surgeries required for victims of dog bites
In 2017 there were over 37,000 fatalities as a result of slip and fall accidents, and over 8 million non-fatal injuries in the same year
Injured in an accident or act of negligence? Contact Clemens Blair for a free consultation today, and receive top-notch legal representation for your case from our personal injury attorneys.
How Much Does It Cost to Hire a Personal Injury Attorney?
If you have suffered an unexpected injury, you may not have been prepared for all of the medical bills and time off of work that you were required to take. We understand how difficult this time can be, so our team works on a contingency fee basis, meaning you don't owe us anything unless we obtain a suitable settlement.
Learn more about our contingency fee policy and answers to other common personal injury questions by visiting our FAQ page!
Our Practice Areas
The attorneys at Clemens Blair handle a broad spectrum of injury claims and lawsuits, including:
TOP REASONS WHY WE SHOULD BE YOUR FIRST CALL
We're backed by over four decades of experience.
We stay up-to-date on new injury laws and statutes.
Our attorneys have extensive litigation experience.
You don't pay anything unless we win your case.
We're heavily involved in every stage of the process.
We provide every client with personal attention.
Our attorneys don't settle for less than you deserve.
We know how to handle the insurance companies.
Millions of Dollars Recovered
By focusing our attention and priorities on the finite details of your case, we leave no room for mediocre advocacy. We bring a vast wealth a knowledge to the table, having worked in various legal backgrounds throughout the years. This equips us with the ability to build a sound strategy for your claim. When you put Clemens Blair on your side, we are fully committed to obtaining the highest level of compensation you deserve. Watch this video to learn more.