Motorcycle Accident Lawyer Oklahoma City
Pursuing Justice on Your Behalf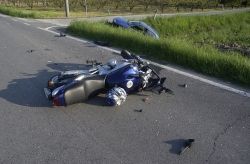 Motorcycles are a great way for many people to travel. They are easy to handle, they fit in smaller parking spots and they can make a commute to work fun. These amenities, however, are not free of hazards. If you were involved in an accident with a passenger vehicle or a truck, you stand little chance of escaping the accident unscathed as a motorcyclist. People who are clipped on road bikes are more susceptible to bodily injuries given their direct exposure to contact.
Common Motorcycle Accident Injuries
Common injuries pertaining to motorcycle drivers include:
Impact with the pavement or another car can leave you facing serious injuries that bring with them high medical bills and a long road to recovery. Even if you are able to walk away from an accident, your motorcycle may not be as lucky. Repairs can quickly add up and insurance companies usually prefer to total the wrecked bike rather than pay for damages.
Motorcycle Accident Attorney in Oklahoma City
Searching for a motorcycle accident attorney in Oklahoma City? If you have been involved in an accident with another vehicle or a single-rider accident because of poorly maintained roads or a lack of road signs to alert motorists to danger, you are probably eligible for a personal injury lawsuit. After an accident, it is important that you receive all the medical care that you may need and record any and all medical records involved in your case. If your insurance company offers to total your bike, it may be to your benefit to deny the claim.
Insurance companies can be notorious for trying to lower the amount that they owe, and totaling a wrecked motorcycle may get rid of important evidence that could otherwise be used to build a strong case on your behalf. Our experienced and professional Oklahoma City personal injury attorneys at Clemens Blair can help you fight insurance companies for higher compensation and represent your case in court if need be.