Tractor-Trailer Truck Accidents in Oklahoma City
Call
(888) 490-7933

for a Free Consultation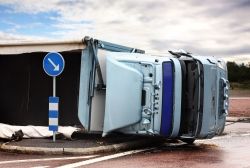 Collisions that involve 18-wheelers are often devastating due to their size. All it takes is one fatigued or intoxicated trucker, one lax trucking company, or one defective auto part, and you could be confronted with serious medical bills, missed income, and other losses. At Clemens Blair, we are ready to assert your rights. We have decades of experience to pour into your accident claim to ensure that you recover the compensation that you are truly owed.
Why Choose Our Truck Accident Lawyers?
More than 21 years of combined experience in personal injury law
No recovery, no fee: You don't pay us unless we win
Personalized, step-by-step guidance
Millions of dollars won in compensation for clients
Searching for an attorney for a truck accident in Oklahoma City? At Clemens Blair, we offer the zealous, skilled advocacy that you deserve. Don't hesitate to discover how we can help you. Schedule your free consultation today to understand your legal rights and options.
Who Is to Blame in a Truck Accident?
When a collision with an 18-wheeler occurs, the victim and their family are often put in life-changing position. Who do you blame for the accident? If the accident was caused by the trucker's fatigue or recklessness, the truck driver may be to blame. The Federal Motor Carrier Safety Administration has regulations regarding how long a commercial driver is allowed to drive on the road, and when these regulations are violated, extreme fatigue and severe mishaps often result.
Causes of trucking accidents in Oklahoma City can include:
Fatigue
Cell phone use
Poorly maintained trucks
Poorly secured loads
Weather conditions
Drunk driving
Worn breaks and flat tires may put the owner at fault as well. Did a hitch fail? That may put the product manufacturer at blame. What about if the load was improperly secured, causing it to shift and the truck to flip? In these cases, the loaders of the truck could be at fault. In some cases, the trucking company itself may be at fault for a poorly maintained truck or violated regulations.
Residents of the State of Oklahoma are allowed up to two years from the date of their accident to file a claim against a negligent truck driver. It's important that you contact an attorney soon after your accident to discover your options for recovery and to discuss your case with skilled attorneys. Not only can a personal injury lawyer inform you of your options, they can fully investigate the cause of the accident, gather witness statements and speak with insurance companies on your behalf. Do not go another day suffering from an accident caused by someone else, not without taking legal action to have your pain compensated.