Oklahoma City Medical Malpractice Attorney
What Is Medical Malpractice?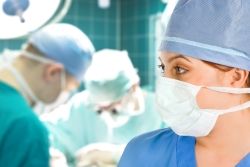 It is common for an injured or ill person to turn to their doctor for advice on how to make a swift recovery. But who do you turn to when your doctor is the one who caused your injury or illness in the first place? Doctors are meant to provide assistance and treatment to those patients who have sought out their medical skills and expertise. Most people who schedule a doctor's visit never imagine that the visit could end unfavorably. Unfortunately, a patient may find themselves experiencing debilitating injuries or prolonged health complications because of a doctor's negligence.
Medical malpractice cases can arise from a variety of circumstances. A doctor's prescription of dangerous or "risky" drugs, surgical errors and anesthesia complications can lead to wrongful death. Childbirth malpractice can cause serious complications in the life of an infant or poorly affect the health of a mother. All of these scenarios can push families into a tailspin, and they all have one thing in common: negligent acts that were made by the medical professional who should have been taking active steps to better the situation.
Do you need a lawyer for a medical malpractice case in Oklahoma City? If you believe that your injury is a result of medical malpractice, speak with an Oklahoma City personal injury lawyer from our firm as soon as possible.
Am I Eligible for Medical Malpractice Compensation?
Are you searching for an attorney for a medical malpractice case in Oklahoma? If you feel that you were wrongfully diagnosed or you are suffering from surgery complications or failure to treat a pre-existing condition, you have rights. Individuals who face medical malpractice issues often overlook the fact that they are not to blame and that it is actually the medical practitioner who is at fault.
According to Oklahoma state law, it is required that a case be brought before a judge no later than two years after learning of the injuries that were sustained in an accident. Our medical malpractice attorneys at Clemens Blair are here to assist you in efficiently and thoroughly representing your rights in a case.
The sooner you contact an Oklahoma City medical malpractice attorney from our firm, the sooner we can start moving forward with your case and working toward obtaining the compensation that you both need and deserve.