Oklahoma City Oil Field Injury Lawyer
Risks of Working in the Oil Industry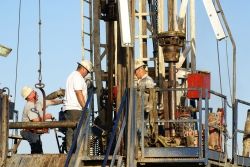 Oklahoma is rich in oil and the industry provides jobs for hundreds of Oklahomans. These oil fields, however, can be incredibly dangerous places to work.
Heavy machinery, lack of training, improper equipment usage, and even safety oversights can cause very serious or sometimes fatal injuries to workers and anyone near the site.
Even when the proper safety requirements have been met, accidents still happen. Oil is naturally occurring and flammable, making it highly combustible and consequently dangerous to those individuals who work near it (or with it).
What Are the Most Common Oil Field Injuries?
Explosions are a huge risk for anyone working around an oil refinery or extraction site.
Other accidents can include:
Heavy machinery falls
Defective tools
Tank and well blowouts
Chemical exposures
And defective pipeline work
If you are a surviving family member of a loved one who was fatally injured on the job, you may be eligible for compensation for your losses as well.
When Should You Call a Personal Injury Attorney?
It is important to contact an experienced and aggressive personal injury attorney when injuries are suffered in this line of work.
Many people could be responsible for the accident and an attorney can help you file claims against:
Oil companies
Contractors
And even negligent product manufacturers
How The Oil Field Injury Attorneys at Clemens Blair Can Help
An Oklahoma City personal injury lawyer who is familiar with various work-related accidents can help you file for workers' compensation, ensure that your rights are represented in court and investigate any claim that is filed on your behalf.
Catastrophic accidents, especially ones that could be prevented such as oil field explosions and negligent safety inspections, can be difficult to face, but you do not need to face them alone.
---