Oklahoma City Workers' Compensation Attorney
Injuries Sustained on the Job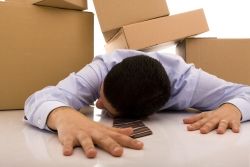 Need an attorney for a workers' compensation case in Oklahoma? If you have been injured while working on the job, it is important that you file for workers' compensation. Workers' compensation is provided by your employer's insurance coverage as a means of providing you compensation in the event that you are injured while performing the duties of your job. If an employee loses his / her life in a case of wrongful death while on the job, the family members of the deceased person may be able to receive their worker's compensation benefits.
Every year, millions of people are injured while performing the responsibilities of their job, and thousands of these people are eligible for workers' compensation benefits. Common work-related injuries include neck and back injuries from improper lifting, slip and fall cases, industrial accidents and even oil field explosions. Even employees who have sustained long-term injuries or injuries that surfaced years later (such as firefighters and respiratory issues), may be eligible for compensation. Speak with an Oklahoma City personal injury lawyer from Clemens Blair today to discuss your case.
Who Is at Fault for My Work Accident?
Sometimes it is hard to determine who is at fault in a work-related injury. If the accident was caused by improper signage, the employer is probably to blame. Employers are often at fault when it comes to training their employees correctly, keeping the premise free of hazards and providing safety inspections. In the case that an employee is injured or killed because of a faulty product that they were using during their job, they may be eligible for a third-party claim. Third-party claims will still allow the injured party to receive workers' compensation benefits while pursuing their case, but they may be eligible for more compensation than just filing for workers' comp.
If you feel that you are not receiving enough benefits from the compensation package provided by your employers' insurance, or your employer is not providing workers' compensation at all, you should contact an Oklahoma City workers' compensation attorney. It is hardly ever an employee's fault when they are injured at work and you should never live your life suffering from someone else's negligence.
Need a workers' comp lawyer in Oklahoma City? Contact us for a free case evaluation.