Oklahoma City Drunk Driving Accident Attorney
Negligent and Reckless Drivers in Oklahoma City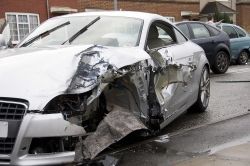 A drunk driver whose reaction time has been greatly impaired because of alcohol is not only a danger to himself/herself, but a danger to all other cars, motorcycles, bicycles and pedestrians on the road. Collisions with other drivers or pedestrians can cause death and serious injuries and this is especially true when the collision is caused by a drunk driver whose impairment inhibits him/her from safely operating the vehicle under their control.
Fatality car accidents involving a drunk driver occur every hour in the U.S. Oftentimes, it is not the drunk driver who loses their life. Drunk driving does not always occur on the road either; drunken boat operators create a large threat to skiers, swimmers and other boats as well. Oklahoma state law says that anyone who has a blood alcohol content (BAC) of .08% or higher, is considered intoxicated and they are not only putting themselves at risk, but other innocent drivers as well.
---
Do you need an attorney for a drunk driving car accident in Oklahoma? Our Oklahoma City car accident attorneys can help you hold that drunk driver responsible for their actions.
---
DUI & Injury Charges
Were you hit and injured by a drunk driver? Was a loved one permanently injured or even killed by a driver who was operating their vehicle under the influence of alcohol? The serious injuries that are often sustained by those who have survived a drunk driving accident can take years to recover from, and both physical and emotional trauma often accompany the recovery process. As the victim of this kind of accident, you owe it to yourself to take legal action and you should do so sooner rather than later. The longer you wait, the more difficult it will be to make a valid claim of this nature.
Seeking Compensation for Drunk Driving Accident Victims
Being involved in a drunk driving accident can be a devastating experience, resulting in serious injuries, emotional trauma, and financial burdens. At Clemens Blair, our experienced Oklahoma City drunk driving accident attorneys are dedicated to helping victims of these accidents seek the compensation they deserve.
When you choose our firm to represent you, we will:
Thoroughly investigate the accident to gather evidence of the driver's negligence and intoxication
Work with accident reconstruction experts to determine liability and strengthen your case
Assess the full extent of your injuries and losses, including medical expenses, lost wages, pain and suffering, and more
Negotiate with insurance companies to ensure you receive a fair settlement
Prepare your case for trial if a fair settlement cannot be reached
By seeking legal representation, you can focus on your recovery while we handle the legal complexities of your case. Our compassionate attorneys will fight tirelessly to hold the drunk driver accountable and help you obtain the compensation you need to rebuild your life.
Need a Lawyer for a Drunk Driving Accident in Oklahoma?
An Oklahoma City personal injury attorney from Clemens Blair can help you fully investigate your claim and gather evidence to help build up the case that is ultimately brought before the court. Sometimes, there is more than one person at fault in a drunk driving case. Bars or restaurants that continued to serve alcohol to an intoxicated person can be held partially responsible for their negligent actions, but only an attorney will be able to help you make this determination. You deserve nothing but the best and we can help you start on your road to recovery.
---
Call our office today to learn more. We offer a free case evaluation to all prospective clients!
---