Oklahoma City Distracted Driving Accidents Attorney
Oklahoma City Car Accident Attorney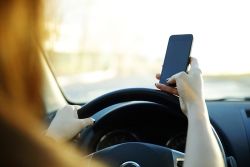 In the state of Oklahoma, the use handheld devices are banned for all bus drivers, drivers with a learners' permit and drivers with an intermediate license. Many states have realized the serious risks involving distracted driving and are not taking steps to make the roads safer by educating people on the dangers of it.
When drivers are behind the wheel, their full attention should be on the road, but many times that is not the case. In fact, the National Highway Traffic Safety Administration conducted a study back in 2010, which shows that 9% of all fatal car crashes and 18% of injury-related car accidents were caused by a distracted driver. To put that more in perspective, distracted driving took the lives of 3,092 people and injury 416,000 people in 2010 car accidents.
There are three main types of distractions that driver's participate in while driving:
Manual distractions
Visual distractions
Cognitive distractions
By looking at a passenger, a navigation system, or a hand held device, your visual attention is no longer on the road. Then there are manual distractions such as typing out a text, applying makeup, grooming, eating and drinking and anything else that requires taking your hands off the wheel. Lastly, there are cognitive distractions, just by talking on the phone, even it is a hands-free device, the amount of brain activity that was going towards driving has now been reduced by 37%. The biggest problem today with smart phones, is that we know have the internet, email and open communication at our finger tips and people believe that they can safely multi-task when in reality, they cannot.
The Types of Distracted Driving
Any activity that demands your attention and diverts your focus from the primary task of driving, is a distraction.
The most common cases of distracted driving include:
Texting
Using a handheld device
Eating & drinking
Grooming (putting on makeup)
Turning to talk to passengers
Reading a book or a map
Fiddling with a navigation system (GPS)
Watching a video
Playing with the radio, CD, or iPod
All of these distractions can ultimately put the driver's life at risk, their passengers, other drivers, nearby bystanders, and pedestrians as well. The most dangerous of all however, is the task of texting and driving- this requires your mental attention, manual attention and cognitive attention all at once.
Recovering Compensation for Distracted Driving Accident Victims
If you have been injured in a distracted driving accident, whether it was caused by someone texting and driving or someone talking on the phone, you have the right to seek justice and fair restitution. That is where we come in. Here at Clemens Blair, we believe that you deserve the very best and we are 100% client driven. Our Oklahoma City personal injury attorneys have over 21 years of combined experience in this field and we have extensive knowledge and skills when it comes to assisting with financial recovery. We have already recovered millions for personal injury victims in Oklahoma and we will fight to do the same in your case.
Our firm handles a wide variety of personal injury claims including car accidents, premises liability, burn injuries, dog bites, medical malpractice, workers' compensation and much more. Our injury attorneys know how to deal with the insurance companies and we do not accept settlements that are lower than what you deserve. Our firm handles personal Injury cases on a contingency fee basis, which means that you don't have to pay anything unless we win your case and recover compensation on your behalf. Our firm also offers a free case evaluation to all potential clients, so you can discuss your case at no cost to you.
Contact an Oklahoma City car accident lawyer from our firm today to schedule your consultation!
We proudly serve clients in Choctaw, Edmond, Norman, Midwest City, El Reno, Moore, Shawnee, Oklahoma City and Yukon.
---
Related Reading:
---