Uninsured Motorist Claims in Oklahoma City
Car Accidents: What if the Other Driver Was Uninsured?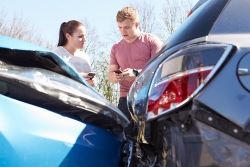 Collisions with uninsured motorists can cause a great deal of stress. How can you expect to receive compensation from the at-fault driver if he/she has no insurance company to cover the financial costs of your medical expenses and car repairs? If you were hit by an uninsured motorist in Oklahoma, you have rights!
Oklahoma is a tort state, which means that every driver is responsible for all injuries or damages that they have caused to another party.
---
Our premier personal injury law firm can help you go after the maximum amount of compensation that you are legally entitled to. Call us today to find out how much your claim is worth and how we can go about seeking compensation.
---
The Uninsured Motorist Clause
If you were hit by a motorist that does not have insurance, you may have a personal injury claim on your hands. Under the "uninsured motorist clause," if you have car insurance, your insurance company must legally provide compensation for damages that you sustained during the crash. This allows your insurance company to pay the difference in the event of an accident that was caused by a driver who does not have automobile insurance.
Even in the event that your insurance company covers the damages that you sustained due to someone else's negligence or fault, the amount that you receive may not be enough to fully cover all of your medical or vehicle repair costs. If this is the case, it is important that you contact a personal injury attorney today. A legal professional can fully examine every aspect of your claim and help you build a strong case that will best ensure that you are compensated as you should be.
Oklahoma City Car Accident Lawyer
It is important to keep in mind that other complications may arise from a car accident claim or from an uninsured motorist claim. For instance, accidents that occurred while one or more of the drivers was on the job could significantly complicate matters. So, too, could an accident involving an out-of-state driver. Regardless of the situation, it is important to contact a professional and experienced Oklahoma City personal injury attorney who can fully examine your case.
---
Were you injured in a crash? If you are ready to file a claim, then contact our office as soon as possible!
---