Hit & Run Accident Lawyer in Oklahoma City
Oklahoma City Car Accident Lawyer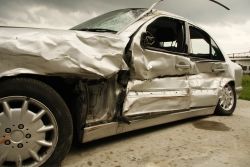 According to the National Highway Traffic Safety Administration (NHTSA), there were over 1,900 fatal hit and run accidents in 2016, resulting in over 2,000 deaths.
In that same year, there were 25 fatalities related to hit and run accidents in the state of Oklahoma. Despite the moral and legal obligations that are expected of licensed drivers, hit and run accidents happen frequently across the U.S.
---
Need an attorney for a hit-and-run accident in Oklahoma City? Contact us today!
---
Oklahoma Hit and Run Laws
In the state of Oklahoma, it's unlawful to flee the scene of an accident where an injury or death has occurred. Depending on the severity of the injuries, the offender may be charged with either a misdemeanor or felony and can face 2-10 years in prison, as well as fines.
If you have been the victim of a hit and run accident, it is important that you know your rights.
If you were not around when your vehicle was hit, it is important to:
Record any information about the time and place that your car was struck
Take any necessary pictures
And contact the police
Some parking garages and parking lots offer video surveillance, and if footage of this surveillance can be obtained, you will have substantial evidence that can be used in your case.
Never Chase a Hit and Run Driver
Instead, try to remember to do the following things:
Confirm that you and anyone else in your car is okay and secure
Try to immediately record as much information as possible about the vehicle, the other driver, and the events that took place just before and after the incident
Ask any witnesses that saw the accident to provide any useful information that could help with your case
This can greatly benefit your cause when it comes time to file a police report and speak to an Oklahoma City personal injury attorney.
What Are the Consequences of Leaving the Scene of an Accident?
The penalties for leaving the scene of an accident vary depending on whether or not someone was injured or killed in the accident.
No Injuries: Oklahoma law states that a driver can be found guilty of a misdemeanor for fleeing the scene of a motor vehicle accident where no injuries occurred.
Non-Fatal Injuries: Leaving the scene of an accident where non-fatal injuries occurred is a felony and can be punished with up to 2 years in prison and a fine of $1,000, as well as having your license revoked.
Fatal Injuries: If you leave the scene where someone died as a result of the accident, you can also face felony charges; punishable by up to $10,000 and 10 years in prison. You will also have your license revoked.
What Do I Do if the Other Car Left the Scene?
You may wonder whether you can be compensated if there's no other driver to blame for the accident. What if you don't have full coverage insurance yourself?
Are you going to incur crushing medical bills and quickly go into debt? An experienced personal injury attorney at Clemens Blair can fully investigate your situation and help you determine the best course of action for you.
---
Don't hesitate to contact an Oklahoma City car accident attorney at our office today!
---