Oklahoma City Swimming Pool Accident Attorney
Premises Liability Lawyer in Oklahoma City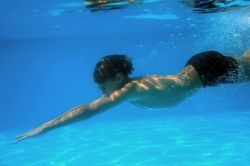 During those sizzling hot summer days in Oklahoma, many people jump into the swimming pool in order to stay cool. In Oklahoma City there are thousands of children who spend hours by the pool with their families. There are public pools, private pools, apartment community pools and water parks that draw families in and provide hours of refreshing entertainment. If a pool is safely maintained and well-supervised, then it can be fun for the entire family. However, a pool can become a life threatening danger hazard, especially to children, when it is not kept up and maintained properly.
Did you know that more than 1,000 young children die each year in swimming pool accidents? Not to mention, 200 kids die every year in hot tubs and spas and another 5,000 are hospitalized due to swimming related injuries. Drowning is considered to be the second leading cause of death for children in the U.S. A child can drown in only 2 inches of water and all it takes is for someone to look away for 1 minute, leaving the child unsupervised.
Swimming accidents occur at an alarming rate throughout the United States and it is mostly because young children are attracted to water and they are fearless and unaware of the eminent danger of drowning. Often times, children who don't know how to swim approach water with confidence and children who do know how to swim are not completely out of harm's reach. Whether you are swimming in your own backyard, at a friend's, visiting a water park or swimming at a community pool, it is very important to ensure that young children are under constant supervision. Unfortunately, there are many times when children swim unsupervised and the consequences can be catastrophic.
If your child has been injured or killed in a swimming pool accident, speak to an Oklahoma City personal injury lawyer by calling (888) 490-7933 to see if you qualify for compensation.
Causes of Swimming Pool Accidents in Oklahoma
Swimming pool accidents can occur for a number of different reasons, but in most cases it always comes back to negligence or misconduct. Here at Clemens Blair, we are highly adept in premises liability law and we have handled numerous swimming pool accident claims. We know how devastating it is when a child suffers a serious injury or loses their life because of someone else's carelessness and negligence.
Our firm heard of swimming pool accidents caused by:
Failure to have a self-latching gate around the pool to keep children out
Failure to abide by state laws regarding pool logs
Failure to properly cover vacuum drains
Failure to have safety equipment on hand like a buoy or throw rope
Failure to clearly mark water depth for swimmers
Life guards who lack training or are not attentive to the swimmers
Defective pool filter or pool pump
Failure to have a pool ladder for swimmers to exit the pool
Failure to have an emergency phone in close proximity to the pool
Having an overcrowded pool with too many swimmers
Inadequate pool lighting for night time swimming
Drowning Accidents in Oklahoma City
If you or a loved one has been injured in a swimming pool or other type of aquatic swimming accident, then your first step should be to consult with an experienced swimming pool accident attorney. Poolside and drowning accidents fall under premises liability claims and without effective legal counsel, it could be difficult to prove fault and recover compensation for any damages. Our experienced trial attorneys are committed to protecting the legal rights of personal injury victims and we will work diligently to help you maximize your injury settlement. It is important to remember that there is a statute of limitations when it comes to filing your injury claim or wrongful death lawsuit, so don't delay.
Our personal injury lawyers have over 21 years of experience with these cases and we know what it takes to achieve positive results. We have been able to recover millions in settlements and verdicts for the injured in Oklahoma City. Our firm represents clients on a contingency fee basis, which means that if there is no recovery, then there is no fee! You don't have to pay anything, unless we win your case.
We are up-to-date on all personal injury statutes and we can inform you of what to expect in every stage of your case. If are need a lawyer for a swimming pool accident case in Oklahoma City, contact our firm today and schedule a free case evaluation!