Oklahoma City Brain Injury Attorney
Have you sustained a traumatic brain injury?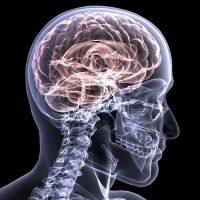 Do you need an attorney for a brain injury case in Oklahoma City? Brain injuries are commonly referred to as Traumatic Brain Injuries (TBI) which means that there has been trauma to the head but the injuries are internal. Closed head injuries refer to any trauma that an object causes to the head, without penetrating the skull itself. The majority of closed head injuries are caused by automobile accidents involving trucks, cars, motorcycles, bikes or pedestrians.
Brain injuries are some of the more catastrophic injuries that injury victims sustain because the brain is such a vital organ and it controls the motor functions of the entire body. Some brain injuries are limited to only one section of the brain but other times unfortunately, the damage is spread over several different areas.
There can be serious repercussions when it comes to brain injuries and it could leave the victim permanently impaired or disabled. Some common side effects of traumatic brain injuries include:
Impairment of the senses
Ringing in the ears
Blurry vision
Speech impediments
Eating and sleeping disorders
Possible paralysis
Trouble concentrating
Memory impairment
Representing Brain Injury Victims & Their Families
The severity of the brain injury will make a huge difference. Brain injuries can range from lightheartedness all the way to severe brain damage and the symptoms do not always appear right away. There are some cases where the effects of the brain injury may not surface until a few days or weeks after the accident. Unfortunately, with the nature of brain injuries, the victim's life may be changed forever and impact the lives of their family and loved ones as well. Many times brain injury victims require long-term care, which means constant medical expenses for the duration of their life. With the help of an experienced Oklahoma City personal injury attorney, you may be able to file a lawsuit against the negligent party who is responsible.
Are you searching for a lawyer for a brain injury case in Oklahoma City? Our attorneys here at Clemens Blair have extensive experience with personal injury claims and we can help maximize your traumatic brain injury claim so that you can recover the full compensation you deserve. If you or a loved one has suffered from a brain injury, whether it was a concussion or permanent brain damage, you deserve to be compensated for any pain or suffering, loss of income, or medical expenses that you are facing. The best part is, when you work with our firm, you don't pay unless we win! We operate on a contingency fee basis which means no recovery, no fees. Our lawyers practice personal injury law exclusively and we are up-to-date on all the latest laws and representation tactics. To make things even easier for our clients, we offer a free initial case evaluation!
If you have sustained a brain injury, contact an Oklahoma City personal injury attorney from our firm and tell us about your case today!