Oklahoma City Spinal Cord Injury Lawyer
Have you suffered a spinal cord injury?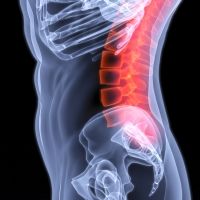 Did you know that there are approximately 11,000 spinal cord injuries reported across the United States every year? Victims and their families who are suffering from a spinal cord injury will find that they are burdened with stress and anxiety for years to come as they pay for ongoing medical expenses and suffer through excruciating rehabilitation. Many spinal cord injuries are debilitating and slow to heal, which keeps people from being able to work for long periods of time. Are you looking for an attorney for a spinal cord injury case in Oklahoma?
With the help of an Oklahoma City personal injury attorney you may be able to reduce your financial and emotional stress by pursuing monetary compensation for your injuries. At Clemens Blair, we have represented hundreds of clients with a wide variety of injury claims and we have extensive knowledge and insight when it comes to personal injury law.
Common Causes of Spinal Cord Injuries
Spinal cord injuries can be caused by variety of things including car accidents, industrial accidents, slip & falls and work related accidents. All it takes is for one wrong movement or a blow that fractures or dislocates one of your vertebrae and you could be left impaired for quite some time. Spinal cord injuries are off a critical nature, so it is very important that you seek immediate medical attention. The consequences of a full spinal cord injury may leave you with quadriplegia (paralysis of all four limbs) or with paraplegia (paralysis of the legs and lower body). The consequences of a partial spinal cord injury may include permanent effects on the victim's strength, nerves and sensations.
The most common spinal cord injury claims include:
Spinal contusions
Severed spinal cord
Paralysis
Loss of sensations
Vertebral subluxation
Central cord syndrome
Anterior cord syndrome
How Clemens Blair Can Help You
You should not have to pay the consequences for someone else's negligence. If you or a loved one suffers from a spinal cord injury, our personal injury attorneys can help you go up against the insurance companies to fight for just compensation. We understand how much mental and physical anguish you endure after a spinal cord injury. Now is the time for you to get well, while we handle everything else. When you work with our firm, we take swift legal action and we negotiate with the insurance companies so you don't have to.
Need a lawyer for a spinal cord injury in Oklahoma City? At Clemens Blair we offer a free initial case evaluation to all prospective clients so you can sit down and discuss your case without any financial obligation. Our attorneys have extensive experience handling personal injury claims and we have the answers you need to all of your questions. At the firm, we always put the client as top priority and we will go after the negligent, responsible party to seek justice on your behalf.
Contact our Oklahoma City spinal cord injury attorney today to learn how we can help you!