Elevator & Escalator Injury Lawyer in Oklahoma City
Oklahoma City Personal Injury Attorney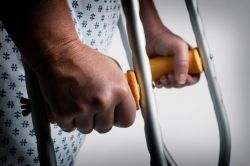 Elevators and escalators are everywhere- they are in tall business buildings, large shopping malls, some apartment complexes, international airports, monumental city skyscrapers and parking garages. These modes of transportation are inevitable sometimes and many times they are extremely helpful in getting us where we need to go. Unfortunately, there are some times when people are injured as a result of a faulty escalator or elevator. Whether your injury was caused by a mechanical error, a flaw in the design or an operational hazard, you deserve to be compensated for any damages. If you believe that your elevator or escalator accident occurred as a result of someone else's negligence, carelessness or lack of maintenance, then they should be held liable for reimbursing you. Speak with an Oklahoma City personal injury lawyer from our Clemens Blair today to help you through this difficult time.
Types of Elevator Accidents
When it comes to these elevator and escalator malfunction, some people are more susceptible to injury than other. The majority of elevator/escalator injuries are suffered by travelers with luggage, elderly individuals, adults that are accompanied by small children and mentally or physically disabled individuals.
With elevators specifically, there are a number of different accidents that could lead to serious injury, including:
Individuals who fall down elevator shafts (Because the door opened without an elevator car present)
Individuals slip, trip or fall due to uneven ground as they step into the elevator
Individuals who get their clothes, arms or legs stuck in the closing elevator doors
The elevator cables break causing it to plummet downwards and land harshly
The elevator doors shut on individuals who are coming into or out of the elevator
Types of Escalator Accidents
Both indoor and outdoor escalators can pose certain risks to individuals because they are basically moving stairs and there is always the possibility of falling down the metal stairs. The stairs have metal teeth on them that can be dangerous at times.
The most common types of escalator accident are:
People slip, trip and fall due to rain or snow making the escalator slippery
Individuals falling down the escalator steps or falling over the handrail when it comes to an abrupt stop
People's fingers, shoes, or clothing getting caught by the metal teeth on the escalator steps
A mother drops her small child because the escalator came to a screeching halt
Common Injuries in Escalator & Elevator Accidents
Every personal injury claim is unique and the injuries can always vary depending on your given situation.
When an elevator or escalator malfunctions, people could sustain any of the following injuries:
Broken Bones
Amputation of a Limb
Neck Injury or Whiplash
Head Trauma or Brain Injury
Hip Injury
Cuts & Lacerations
Proving Liability in Escalator & Elevator Accidents
So who is responsible for injuries or loss of life when it comes to elevator and escalator accidents? Every property owner is responsible for making sure that the elevator or escalator gets serviced and inspected regularly to ensure that it abides by all the safety codes and regulations. Sometimes the elevator/escalator inspector or Maintenance Company overlooks a danger hazard and makes an error in judgment when they approve that the equipment is safe for users. However, insurance companies will also be looking to see if the injury victim was partially at fault for the accident. In order to determine liability and prove fault in your case, you will need the help of an experienced Oklahoma City injury attorney.
Contact Clemens Blair Today!
If you or a loved one has sustained injuries while riding in an elevator or an escalator, then you should see about filing an injury claim against the negligent party. As an injury victim, you may be able to seek compensation for any lost wages, medical expenses, future treatment costs, pain & suffering and any other financial damages. These types of cases can become complex when it comes to establishing fault and liability. That is where we come in--our legal team knows what to expect and we are committed to protecting the rights of personal injury victims here in Oklahoma City. Our firm has over 21 years of experience and we know what it takes to successfully recover the compensation that you are legally entitled to. When you work with Clemens Blair, you don't have to pay us a dime unless we win your case!
Contact our firm today to find out how we can help you get the restitution that you deserve! Call now for a free case evaluation.