Oklahoma City Slip & Fall Lawyer
Premises Liability Attorney in Oklahoma City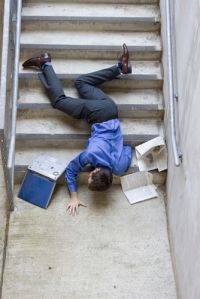 Were you injured due to the negligence of a property owner or manager? When you slip and fall on someone else's property because they failed to safely maintain the premises, then they could be held responsible for any damages.
However, premises liability law is one of the more complex areas of law and it can be difficult to navigate without the help of an experienced attorney. If you need help proving fault in your slip, trip, and fall case, then please do not hesitate to contact an Oklahoma City personal injury lawyer from Clemens Blair.
---
We have a deep understanding of Oklahoma premises liability law and we know how to hold property owners liable in these cases. Contact us today to get started on your slip and fall accident case.
---
How to Prove Fault in a Slip and Fall Accident Case
Premises liability cases are built on the concept of property manager negligence. If the property owner or employees fail to remove risk and potential danger hazards that innocent people, then they could be held accountable to pay for the damages.
As the injured party, the burden of proof falls on your shoulders when it comes to establishing fault. Our premises liability attorneys can help you prove fault by shedding light on their negligence and misconduct.
Under Oklahoma personal injury law, you will need to prove one of the following factors in order to have a valid claim:
The owner or employees on the premises caused the surface underfoot to be slippery, dangerous, or uneven
The property owner or employees knew about the dangerous hazard, yet did nothing to fix it
The property manager or employees should have known about the dangerous surface and should have repaired it. This can be proven because any "reasonable" person would have noticed it.
With every premises liability case, your own carelessness must be taken into consideration whether it is a:
If your carelessness contributed in any way to the accident, then the insurance adjuster will take that into consideration when awarding you compensation. Also, your reason for entering the premises can affect the outcome of your case.
There are three different types of people who can sustain injuries on property and those include:
Invitees
Licensees
Trespassers
What Is Considered an Invitee?
Invitees are people who were welcomed into the premises by the property owner. The manager of the premises is responsible for keeping the area safe for invitees. If there was a dangerous hazard on the premises, then the property manager must properly warn all invitees.
What Is Considered a Licensee?
Licensees are guests who are invited onto the property for social reasons, not for business purposes. The property possessor is expected to exercise reasonable care to make the area safe for licensees and they could be held responsible if a licensee is physically harmed by a dangerous condition on the property.
What Is Considered a Trespasser?
Lastly, trespassers are people who enter the premises without an expressed invitation from the property owner. If the property manager is not aware that a trespasser is on the premises, then they may not be held accountable for any injuries they sustain.
Seeking Fair Compensation for Slip & Fall Victims
Looking for an attorney for a slip and fall case in Oklahoma? If you or a loved one has been injured on another person's property, then you may have the right to seek restitution for your losses.
With slip and injury claims, we can help establish the fault of the property owner so they are liable to pay for:
Medical bills
Lost wages
And any other emotional or financial damages
Our legal team will work tirelessly to force the premises owner to fully reimburse you for your injuries. Proving fault is not always easy in these cases, so be sure to get our legal team involved early on.
Our personal injury lawyers have over 21 years of combined experience and we are dedicated to protecting the rights of injury victims throughout Oklahoma City. Our firm has been able to recover millions for the injured.
We have successfully resolved a wide range of injury claims including:
Premises liability
And more
One major benefit of working with our firm is that you don't have to pay attorney fees unless we win your case. We understand the challenges that you and your family are facing and we want to help you through this difficult time. Our team is comprised of skilled negotiators and litigators and we know how to effectively present the evidence in your case.
---